Dorado, Accredited Facility Dog​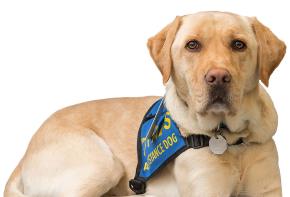 Dorado is a yellow Labrador retriever, trained as an accredited facility dog by the Pacific Assistance Dogs Society (PADS).
Dorado offers support to children, youth, and families during their visit to SeaStar. His calm, soothing presence can reduce anxiety and trauma, helping children and youth feel more at ease.
Dorado joined the SeaStar team in September, 2017, and is one of only about 30 accredited facility dogs in Canada working in this type of role. He lives and works with his primary handler Kathy, one of SeaStar's child and youth advocates.
Dorado colouring pages are now available!
In addition to being fun & relaxing to colour on their own, the illustrations are also good conversation-starters with kids about some of the ways we can take care of ourselves in stressful times – by supporting each other, practicing mindfulness, and getting enough rest.
Free PDF: Download and print
© IWK Health Centre, 2020
Colouring pages are available to download and print for personal and educational use only. Modification or reproduction for other uses, including commercial use, is prohibited.